Overview:
In the webinar, the use of optimization techniques for engineering design will be discussed. We will begin with a review of this technology from the initial concept to modern approximation techniques. The present state of the art will be reviewed and some examples will be offered to demonstrate what is now routine. It will be seen that the state of the art in optimization technology is now reasonably mature. The challenge now is to assimilate this technology into the practicing design environment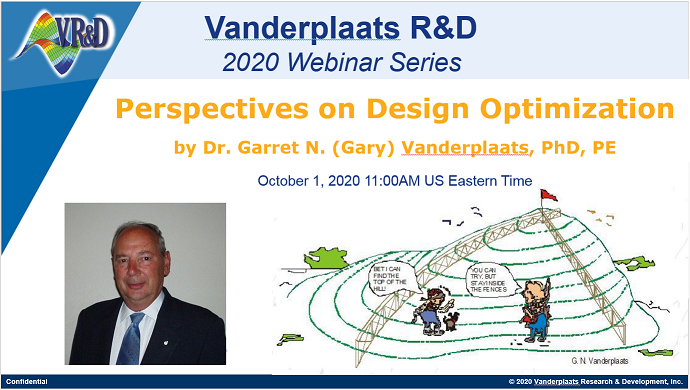 When
Webinar information will be emailed to registered recipients. Due to limited availability early registration is encouraged.
Thursday, October 2, 2020
11:00 AM New York (GMT-0400)
04:00PM London (GMT+0100)
05:00PM Paris (GMT+0200)
Duration:
1 Hour
About the Speaker
Dr. Garret (Gary) Vanderplaats founded Vanderplaats Research & Development, Inc., (VR&D) in 1984 for the advancement of numerical optimization in industry. Dr. Vanderplaats is a widely recognized expert with over four decades experience in the optimization field. He is a Fellow of the AIAA and is the 2002 recipient of the AIAA Multidiscipline Design Optimization Award "For his great impact on the application of optimization to engineering design through teaching, algorithm development, and the creation of outstanding software." Over the years, the company has evolved into a premier software company, developing and marketing a number of design optimization tools, providing professional services and training, and engaging in ongoing advanced research.