Overview:
GENESIS Structural Optimization for ANSYS Mechanical (GSAM) is an integrated extension that adds structural optimization to the ANSYS environment. GSAM can perform topology optimization as well as topography, freeform, sizing and topometry design.
In this presentation, we will give a brief introduction about the new features and enhancements in GSAM v18.0. The key new features and enhancements include optimization of homogenized lattice structures, topology additive overhang constraints, supporting bar/beam in topology and sizing/topometry optimization, and etc. A few examples will be given to demonstrate these new features.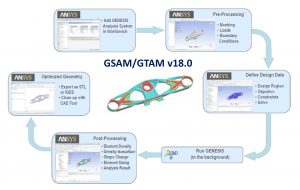 When
Webinar information will be emailed to registered recipients. Due to limited availability early registration is encouraged.
Thursday, September 19, 2019
11:00 AM New York (GMT-0400)
04:00PM London (GMT)
05:00PM Paris (GMT+0100)
Duration:
1 Hour
About the Speaker
Dr. Hong Dong works as Project Manager at Vanderplaats Research & Development, Inc. and is the principal developer of the GSAM extension.