Overview
VisualDOC is a multidiscipline design study (MDS) tool which allows users to perform design studies including multidisciplinary optimization (MDO) in deterministic as well as stochastic domain. VisualDOC has powerful tools which can provide valuable insights into the design space. It can be easily coupled with any 3rd party commercial or proprietary analysis code e.g. ANSYS Workbench, LS-DYNA, MATLAB, VR&D's GENESIS etc. and also comes with dedicated interfaces to several commonly used software packages. It is equipped with a powerful and intuitive GUI along with gradient and evolutionary optimizers, sensitivity study tool, response surface methodologies, and design of experiments.
The purpose of this webinar is to offer a brief overview of VisualDOC along with the new features in the latest version VisualDOC 10.0. The presentation will include examples and demos that will give the attendees an idea of what kind of problems can be solved.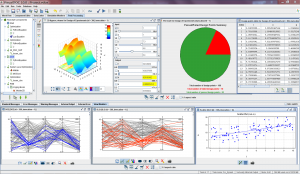 When
Webinar information will be emailed to registered recipients. Due to limited availability early registration is encouraged.
Thursday, August 14, 2019
11:00 AM New York (GMT-0400)
04:00PM London (GMT)
05:00PM Paris (GMT+0100)
Duration:
1 Hour
About the Speaker
Mr. Om Joshi works as Deputy Project Manager, R&D at Vanderplaats Research & Development, Inc. He works very closely in the development of VisualDOC software.