I'm sorry to announce that Richard (Dick) Dippery passed away on July 14, 2019.  If you've had the opportunity to meet him, you knew Dick as a warm, highly talented person and a great supporter of VR&D and optimization technology in general.
I met Dick in the mid-1980's when he was a design engineer for General Electric in Cincinnati and was working on his PhD.  He gave me some Cincinnati Chile (which permanently stained one of my wife's pots) and it became a standing joke between us.  We became lifelong friends and colleagues.  Dick, his wife, Edith, and I and my wife, Ginny, spent many hours together over the years.  His strange sense of humor matched mine and we often publicly insulted each other, to the consternation of strangers (and our amusement) who couldn't understand how we could talk that way.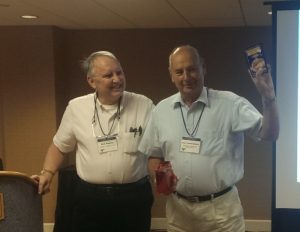 2014: Dick (left) gives Gary some Cincinnati Chile
Dick was an exceptionally accomplished person as a design engineer, professor, expert in computational mechanics and devoted family man.  More importantly, he was a truly fine person who I enjoyed spending many hours with, talking technology, politics, religion and life in general.
Dick was also a close friend to most of VR&D staff and well liked in our community of partners and users.  He attended most of our conferences and some of our optimization events.  In each of these events, he brought his unique perspectives, wit and sense of humor.
He will be greatly missed.
Garret (Gary) Vanderplaats
Founder & Chief Executive Officer