We are deeply saddened to announce the passing of Pam Hoskinson's husband, Richard on December 6, 2019.  If you've had any dealings with VR&D, you have dealt with Pam and if you've attended any of our conferences, you've probably met Richard.
Richard was a congenial, good natured and highly intelligent member of the VR&D family.   His disarming sense of humor was a gift to anyone who met him.
Please keep Pam and their sons Ben and Alex in your thoughts and prayers at this difficult time.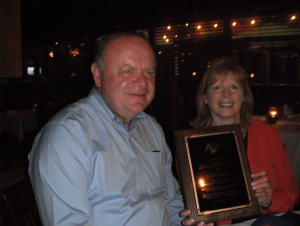 Richard and Pam at a dinner honoring Pam's many
contributions to Vanderplaats Research & Development.