---
Software News
With the capability of scripting embedded into GENESIS, Design Studio and VisualDOC, the software can be customized and automated to suit the users' needs.
For example, we have created a Design Studio Lua Script that can automatically create PowerPoint presentations.  One of the slides generated from Design Studio: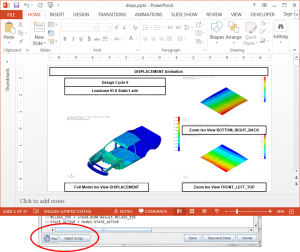 In the upcoming release of VisualDOC, a Presentation export capability will be built-in.  The following images show a few slides from a PowerPoint generated from VisualDOC: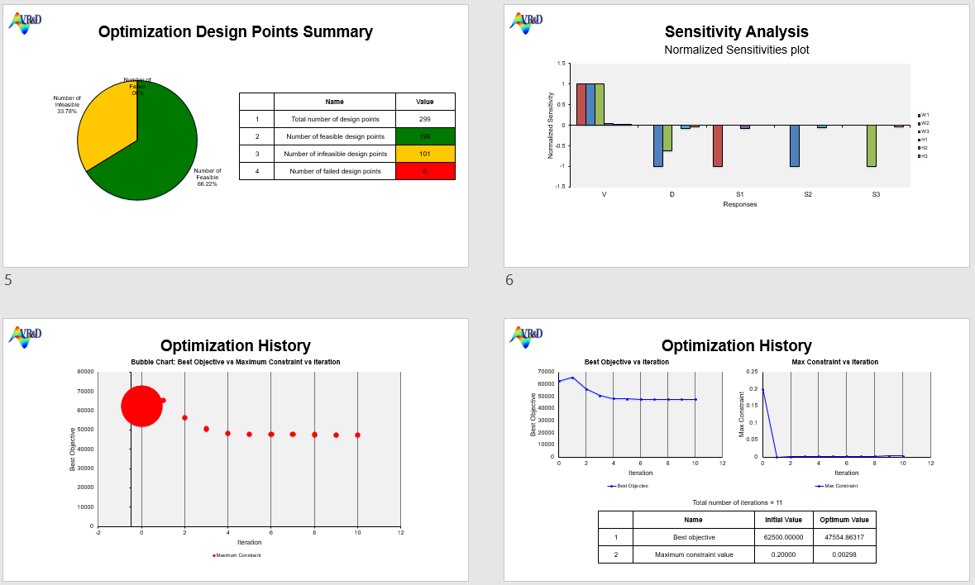 Request your one-month free evaluation license by clicking here.
---
Upcoming Events
Great Designs in Steel (GDIS) – May 20, 2020. VR&D is attending the GDIS conference on May 20, 2020 in Novi, MI, USA.
2020 Conference on Advancing Analysis & Simulation in Engineering (CAASE20) – June 16-18, 2020. VR&D is presenting two papers at the upcoming CAASE20 conference in Indianapolis, Indiana on June 16-18, 2020. The titles of the presentations are Combined Multi-Disciplinary Design Study and Structural Optimization Approach to Design Parts for Additive Manufacturing and Topology Optimization with overhang angle constraints and Lattice Optimization to Design Parts using Additive Manufacturing.
Moldex3D Users' Meeting – September 2-3, 2020. VR&D is proud to sponsor the upcoming Moldex3D User's Meeting on September 2-3, 2020 in Plymouth, MI, USA. Stop by our booth for more information on how the Moldex3D interface in VisualDOC can help in running parametric studies and gate location optimization on Moldex3D models.
---
Past Events
VR&D sponsored and exhibited at the 35th International CAE Conference & Exhibition in Vicenza, Italy – October 28 – 29, 2019. Dr. Phani Adduri and Mr. Om Joshi attended the conference and demonstrated VR&D products in a booth.Dr. Phani Adduri also presented Multi-Model Optimization to Design Common Parts across Multiple Vehicle Platforms at this conference. The proceedings are available here.
VR&D presented at the Simulation in the Automotive Industry: Creating the Next Generation Vehicle – 14 November, 2019. Mr. Om Joshi presented Optimization Techniques to Design Efficient Automotive Components and Dr. Phani Adduri presented Structural Optimization Methods with Commonality Constraints. Click here for the event link.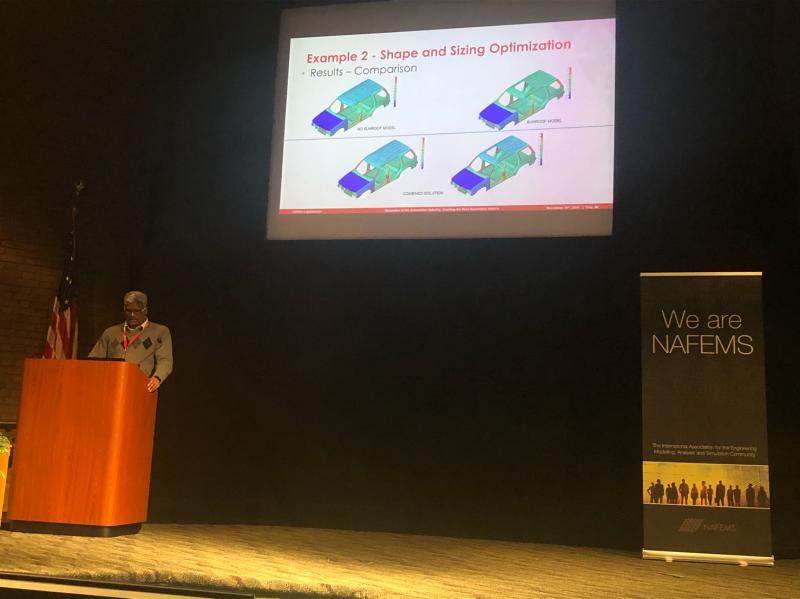 ---
Upcoming Webinars
---
Past Webinars
GSAM v18.0: Features and Capabilities Dr. Hong Dong presented enhancements and new features in GSAM v18.0 on September 19, 2019.
Past webinars can be accessed by visiting this website and clicking View Event Recordings in top right section of the page.
---
Workshops Schedule
Upcoming Workshop Schedule (Click on the course name for more information.)
| | | | |
| --- | --- | --- | --- |
| CLASS | LOCATION | DATES | TIME |
| Structural Optimization Workshop | VR&D Office, Novi, MI, USA | March 26, 2020 | 9.00AM – 4.30PM |
| Non-Linear Response Optimization Workshop | VR&D Office, Novi, MI, USA | March 27, 2020 | 9.00AM – 4.30PM |
| Multidisciplinary Optimization Workshop | VR&D Office, Novi, MI, USA | April 3, 2020 | 9.00AM – 4.30PM |
To register for a scheduled workshop, complete the registration form.
For full schedule details, please visit: http://www.vrand.com/services/seminarsworkshops/
---
Software Partners News
VR&D and Beta CAE Systems are now software partners.  With this partnership, VR&D is working on a new direct interface in VisualDOC to ANSA and META software.
---
Other News
Are you connected with VR&D on Social Media? If not, make sure to follow for the latest news!
---